SURINAME: SOUTH AMERICA'S FORGOTTEN ADVENTURE
Some countries attract billions of tourists every year, and some simply don't, and it's not always a matter of how many attractions they possess. And while for the mainstream, these countries hold little importance, they are a haven for backpackers and tourists who want to get off the beaten path every once in a while. Suriname hasn't made a name for itself in the international tourist section, but not because it lacks natural beauties, cultural heritage or historical sites. Suriname calls itself 'the beating heart of the Amazon', and indeed it is an lovely mix of colonial cities, pure jungles and a lively, multicultural atmosphere.
When it comes to geography, Suriname has a little bit of everything, except for mountains. The highest elevation in the country is about 1000 meters, but to compensate for the lack of snow-covered peaks, Suriname has lots of lush rain forests, mangrove swamps and plains. Many parts of the country haven't been marred yet by technological and industrial development, so the fauna and fauna are very diverse, and plentiful. There are several rare and endangered species in Suriname, and if you're lucky you will chance upon them even if you're not on a guided tour. Matapica and Galibi beach reserves are great for a bit o' exploring, especially since you can see some amazing giant sea turtles there. Other interesting creatures you might meet: jaguars and snakes (hopefully only from afar), tapirs and a huge variety of tropical birds.
Trekking and exploring are great pass times in Suriname, but let's not forget the urban element either. Paramaribo is a beautiful 17th century colonial town replete with great examples of Dutch, British, French and Spanish architecture. Points of interest include the Presidential Palace, the Synagogue dating back to the 17th century, the Roman Catholic Cathedral, several parks and marketplaces filled with exotic fare. Albina, on the Maroni river, is also a very interesting place, and since it is connected to the nearby Saint Laurant du Maroni (in French Guyana), you can stone two birds at once. Fisherman's villages are also worth seeing, even of they're not exactly on the traveled path.
The most exciting feature of Suriname is its cultural diversity, and not many other countries in the world can compete with that. The majority of the population is East Indian, with large numbers of  Creole, Javanese , Amerindians, Chinese  and Maroons, who are the descendants of  the West African slaves brought there by colonists in the 17th and 18th centuries. Dutch is the official language of Suriname, but many people speak English, and you're also in luck if you speak any of the individual languages of the ethnic 
With almost a third of the country being declared national reserves, Suriname's vast natural lands and the diversity of flora and fauna are incredible. Head to the beaches of Galbi and Albina to witness the impressive breeding process of large Leatherback sea turtles, or book a helicopter ride to one of the more remote beaches to see the same, with fewer people around. Spot river dolphins on the way and see the typical mangrove forests between the ocean and the rain forests. The Amazon rain forests cover most of the Suriname surface and is home to thousands of birds, reptiles, monkeys and even a handful of jaguars. As tourism develops, guided tours and resorts in the heart of the jungle are popping up and make a comfortable option if you want to spend a few days spotting wildlife or plants, including the rubber tree, spike-footed palms, plenty of orchids and cactusses. Daytrips are an option too. The Central Nature Reservse the most popular of the reserves and is home to the Raleigh waterfalls and mount Voltzberg. 
Maroon and Amerindian villages are found deep in the forests, but many of them also lie on the riverbanks. A boat trip down the Marowijne river, is a great way to see the best of the forest, visit some villages and and do some border hopping on the go. For a less adventurous day, try swimming in Cola Creek a black water (Blaka Watra) recreational park some 50 km from Paramaribo and popular with Suriname families. 
Paramaribo itself is a pleasant place and its historic inner center is a Unesco World Heritage sight. The capital has many characteristics of a large village community and although there are few real landmarks and sights, is a nice place to spend some time. Linger on the Waterkant, the water side street with its old wooden, colonial houses and grab a bite from one of the food stands there. Go shopping at the Central Market and gaze at the Jules Wijdenboschbrug. Stroll to Fort Zeelandia, through the Palm tree garden and the Independence square. Make sure to include the Roman Catholic Saint Peter and Paul Cathedral in your walk, since it is the largest wooden building in South America.
Former plantations will take you back to colonial times, when coffee and sugar where produced here. Some of the plantation houses have been renovated, and a few are even in use to make coffee and dry shrimp. Bike through the quiet and green area, between the banana plants, to visit former plantations with names like Einde Rust (End of Rest), Worsteling Jacobs (Struggle Jacobs), Zorgvliet and Zeldenrust (Rarely Rest).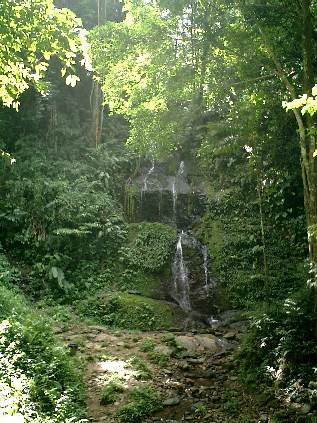 thoughtsrdestiny reblogged this from alibertinemusing